Good Vegetarian Chili is Possible
Amazingly, this is great for vegetarians and omnivores alike, this recipe is based loosely on the American Test Kitchen Vegetarian Chili recipe from the Vegan for Everybody cookbook. I did not have time to soak beans and roast chili peppers, I was missing a few ingredients, and I do not use oil for sautéing, so this modified recipe was born.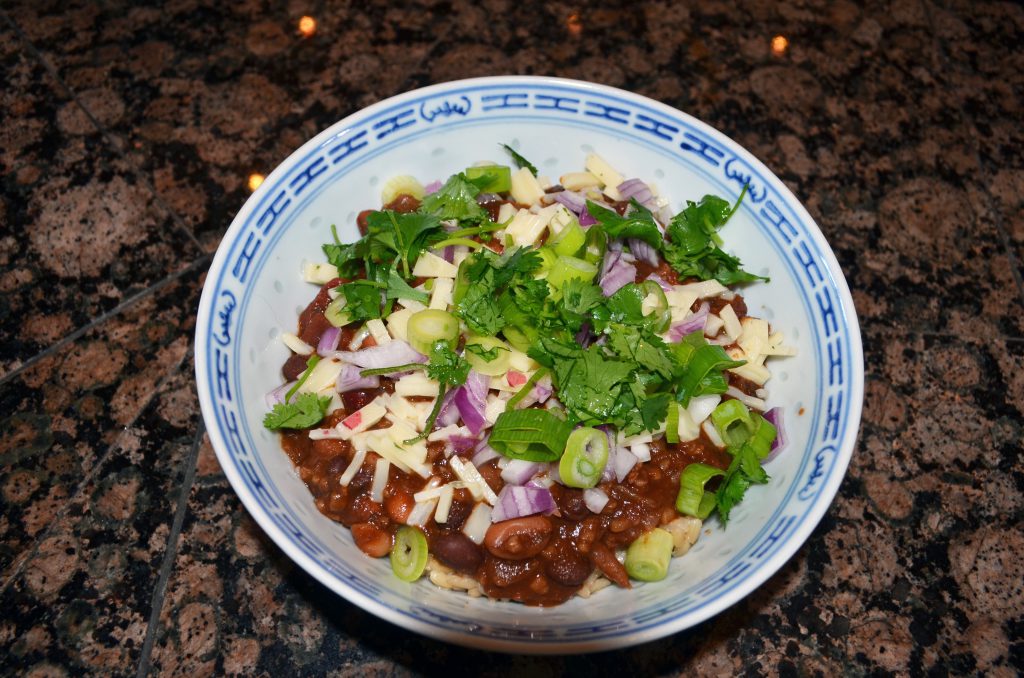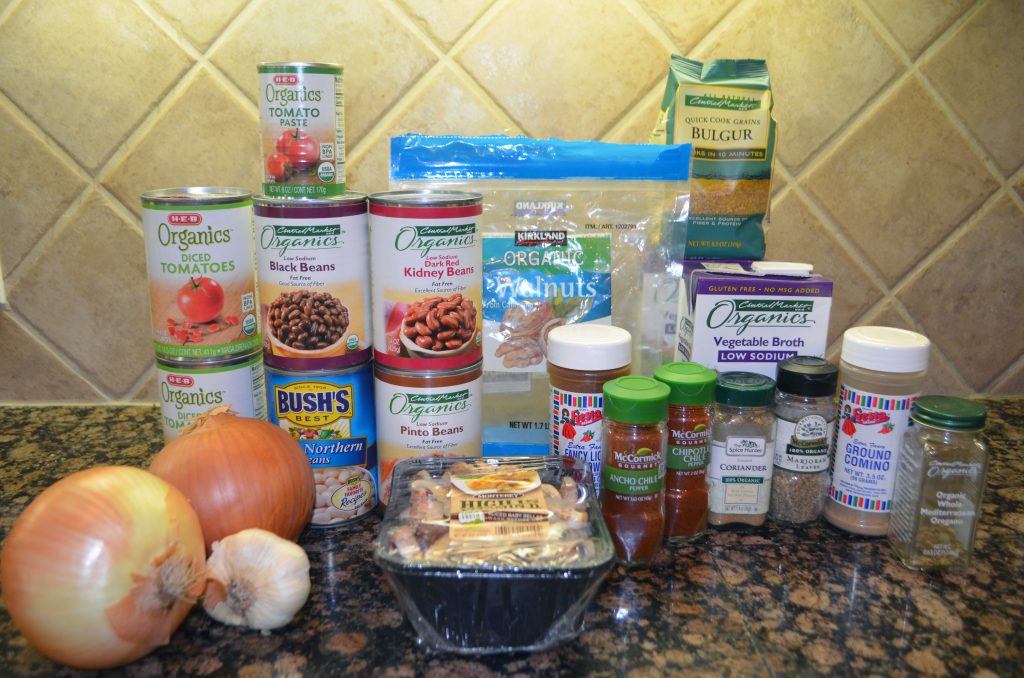 I like to maximize the phytonutrient/antioxidant content of recipes, so I use a lot of different dried spices and often top my dish with a variety of fresh herbs and vegetables. I added marjoram because it has almost double the antioxidants and similar flavor to oregano – if you don't have marjoram, just double the oregano. Same goes for the coriander – if you don't have ground coriander seed just add extra cumin. The bulger gives chili a ground beef texture and is a nice complement to the creaminess of the beans. Also of note, cracked wheat is not the same as bulgur and will not work in this recipe.
SMOKEY BEAN & BULGUR CHILI INGREDIENTS
½ cup walnuts, roasted
2 pounds onions, chopped small
4 cups low sodium vegetable both, divided
8 ounces mushrooms, diced small
2 tablespoons ancho chili powder
2 tablespoons chili powder
½ teaspoon chipotle chili powder (optional)
1 tablespoon ground cumin
1½ teaspoon ground coriander seed
4 cans low sodium beans, drained & rinsed (any combination of pinto, red kidney, black or navy beans works)
1 – 28 ounce can diced tomatoes, drained with juice reserved
3 tablespoons tomato paste
3 tablespoons Braggs amino or soy sauce
6 garlic cloves, minced
2 teaspoons dried oregano
2 teaspoons dried marjoram
2/3 cup medium ground bulger
¼ cup fresh minced cilantro
¼ cup minced fresh parsley
Salt & pepper to taste
Optional Topping Ideas: grated cheese, avocado slices, diced red onions, chopped spring onions, sliced black olives, pico de gallo, salsa, fresh or canned sliced jalapeños
How to Make Vegetarian Chili
Roast walnuts on a baking sheet at 350 (175 c) for 5 – 10 minutes tossing occasionally.
Once cooled, process walnuts in a food processor or blender for 30 seconds or until finely ground. Transfer to a bowl.
To dry sauté the onions, heat a Dutch oven or large pot over medium high heat and when hot, add onions to the dry pan. As onions begin to brown, stir constantly and add a tablespoon of vegetable broth. Continue cooking for 5 to 10 minutes, adding more broth 1 tablespoon at a time as the onions dry out. Once onions are soft and slightly caramelized, add diced mushrooms and continue cooking until mushrooms are soft. Reduce heat to medium, stir in ancho chili powder, chili powder, chipotle chili powder (optional), cumin and coriander. Stir constantly until fragrant, about 1 minute.
Add beans, remaining vegetable broth, tomatoes with juice, tomato paste, garlic, Braggs amino, oregano and marjoram and stir to blend. Simmer for 20 minutes, stirring occasionally.
Stir in ground walnuts and bulgur. If the mixture is too thick, add extra water ¼ cup at a time to the desired consistancy. Simmer for 20 minutes or until bulger is cooked. Top with fresh cilantro and parsley. Eat plain or serve over brown rice or grain of choice. This can also be served over a bed of spinach or greens.
If you are a dietitian or nutritionist, providing healthy meal plans is essential.  And if you want access to more awesome recipes and to have the ability to provide nutritious meal plans for your clients, check out this free two week trial of our nutrition software.
Author: Tricia Carl is an RN, BSN with extensive knowledge of whole food plant based eating.